Welcome to ACE Custom Coatings A little background about the owner
After finishing schooling, I joined my family's business. My father and mother worked tirelessly to build an honest, hardworking and successful business. When it was time for them to move on to their well deserved retirement, I was honored to take over the day-to-day operations along with my siblings. In early 2014, we collectively decided to shut down the business after 42 years.
I am now excited to start a new adventure in my professional career. Although this is a new company, this is an industry in which I have over 30 years of experience. Growing up, in and around precision manufacturing, I am eager to continue with the same passion and commitment that my father instilled in me. I am proud of the work ethic, quality, hustle and knowledge that I bring to my clients and to the projects that mean so much to them.
As a graduate of the Powder Coating Institute of America, I have been coating medical, musical, automotive, aerospace and many other industrial applications with the highest quality for over 30 years.
Adding Cerakote and Hydrowater Transfer to my portfolio has opened many opportunities for ACE and what I can offer to my valued clients. Graduating from TWN Industries (the industry leader in Hydrowater Transfer) ensures that I have the knowledge and experience to bring your special projects to life.
A lifelong passion for the outdoors and a love of nature have inspired me to travel to some wonderful countries, usually with my bow and arrow in hand. Shooting from the age of 14, when I was bitten by the archery bug, I was fortunate enough to be awarded several sponsorships and enjoyed many years traveling and shooting tournaments up and down the west coast. While tinkering with my archery equipment, I had trouble finding the right tools to adjust and maintain my gear. This led to another opportunity and soon I had several archery related items on the market that have been widely accepted and are used by archers worldwide to this day.
All of these experiences, both professional and personal, drive me to be and do the best for my clients. To offer a professionalism that brings comfort in knowing that your projects will be handled with care and precision.
I look forward to continuing to meet and exceed my existing customers needs and welcome the opportunity to discuss new projects with those that I have yet to encounter.
Derek Schaffer
Owner
A.C.E. Custom Coatings
WHAT WE OFFER Our Services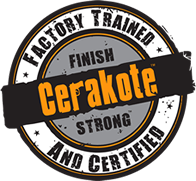 Cerakote
Is one of the strongest and most durable coatings available. While this process is primarily used in the coating of firearms, it is also widely used to reduce heat and add awesome looks to your motorcycle and hotrod exhaust systems.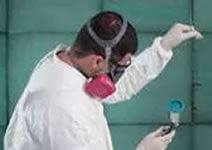 Used by the US military to coat most of its firearms. This finish is incredably strong and durable and would keep your project looking new for many years.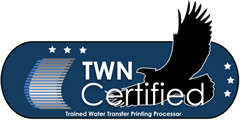 Hydrographics
You might ask where hydrographics can be applied? The answer is nearly any object that is made from plastic, wood, glass or metal. A general rule of thumb is if it can be painted, it can be dipped. This cutting edge technology allows for endless designs to be transferred to almost any surface.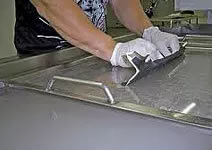 With thousands of patterns, this process is used to cover firearms, archery equipment, skulls, helmets, automotive trim & bezels, wheels, computer cases, ATV's, golf carts and many more!
Powder Coat
This process is known worldwide as one of the toughest and most durable coatings available for metal projects like motorcycles, cars, bicycles, chassis and nearly any metal surface.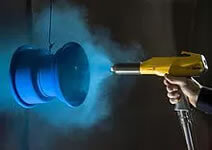 The industry standard for durability. You can't go wrong if you choose powder coating for your metal coating needs
Commercial & Industrial
Providing you with quality metal fabrication as well as the latest in coatings available. We service the medical, industrial, agricultural and biotech industries, as well as all avenues in the sporting fields from firearms and archery to cars and boats.